Woe to the caver who wanders into an antique shop and buys the first carbide lamp he or she sees. Many lamps are completely nonfunctional and are highly priced. You can wind up spending a lot of money on something that you cannot repair. Before doing anything, you should look at eBay and get a general idea of how much a lamp in good condition is going to cost. Among carbide collectors who are as wily as they are thrifty eBay has a reputation of being a bit pricey. However, there are lamps on eBay being sold for $40 for which some antique dealers would charge you $70. Other antique dealers will charge you $35 for a lamp that is completely nonfunctional.
The problem is this: since most carbide lamps have gone completely out of production, many dealers assume that it makes their Autolites and Justrites that much more valuable (despite the fact that they have been out of production for decades). They are also unaware that a new carbide lamp, the MINEX has just gone into production. This is also reflected on eBay, many times. You will see headings that read, "LOOK! RARE CARBIDE LAMP!" And bidding is for a Justrite, the second most common lamp. However, antique dealers, and eBay are still the two best places to buy older carbide lamps.
Inner Mountain Outfitters
Inner Mountain Outfitters has arranged for a new carbide lamp to be made especially for them. The lamps and spare parts are easily obtainable from the Inner Mountain Outfitters website. The lamp sells for $45, and a price list is provided for the spare parts.
Antique dealers
If you are going to an antique dealer, check out the Rarety List on this page. Knowing about how common the prospective lamp is may help you talk down the price a bit. Also, it would be a good idea to keep an extra flint and spring so that you might test the striker rather than waiting to get home to find out that the spark wheel is too smooth to create a good spark. You can find more information on this subject on the Spare Parts page. Some antique dealers have even let me take the lamp into the bathroom to fill it with water and test the drip mechanism! Whether through antique dealers or eBay, the best lamps are usually purchased from other cavers (or former cavers).
eBay
If you decide to purchase from eBay, you should also be familiar with how common your lamp is. Extras such as cool grips, flame protectors, reamers, and tip cleaners will raise the price some. However, the buyer must always beware! E-mail the seller and confirm EVERYTHING! Does the spark wheel spark? Does the drip mechanism work well? Are all internal parts in tact? Are there any cracks? Is the bottom of the lamp frozen? Can the lamp be fired up? Again, the best people to buy the lamps from, are the cavers. Generally the lamps are in good condition, and they also have a flat hook rather than a round hook.
For some reason, the blade style hook (also called the flat hook) is preferred by cavers. Miners more commonly used a round style hook. Round hooks look much like thick tops of coat hangers. The blade hooks are about a half an inch wide, and (in their most basic forms) look like they have been cut out of sheet metal. Only a blade hook will fit today's helmet mounts. You can find examples of both round hooks and blade hooks on the Lamp Gallery page.
Carbide Classifieds
Another place to buy carbide lamps is The Carbide Classifieds. The classifies are available from the aforementioned page, along with an FAQ and other helpful information. I have never used the Carbide Classifieds, but it seems as though several people have had positive experiences with it.
Rocksports Emporium
A limited supply of carbide lamps and parts is carried by Rocksports Emporium. The vendor is run by a caver who occasionally locates carbide lamps and parts.
Buyer beware!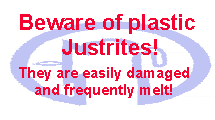 There is a more lengthy discussion of the character of individual lamp brands on pages six through nine of Rea's book Caving Basics Third Edition which covers more varieties of lamps. However, there are four lamps that one is likely to find: Justrite, Premier, Guy's Dropper, and Autolite. Justrite, Guy's Dropper, and Autolite are American made lamps that have good reputations. Which of the lamps is of highest quality is generally in the eye of the beholder. However, it is significant that there are a number of Autolites from as early as 1920 that still are used underground. However, the later years of both Justrite and Premier resulted in less reliable lamps. The Justrite and Guy's Dropper lamps have an advantage in that Premier parts are still widely available, and some Premier parts can have a reasonable fit in Justrite and Guy's Dropper lamps (with minor modifications). Autolites have a little more difficult fit with the Justrite or Premier parts, but are far more interchangeable with Guy's Dropper. BEWARE buying a plastic Justrite. Plastic Justrites have a reputation of being poorly made lamps. They will more than likely break or melt. Plastic Justrites are to be considered a collector's item from an era that had an idea that went horribly wrong. Premiers may still be available from a few British caving vendors such as Dragon Speleo or Caving Supplies

---
Click here if this page appears outside of its frames.